Granite is extremely hard and durable, virtually scratchproof, comes in a wide variety of colors, and is easily cleaned because of low porosity. It is a great stone to use for kitchen countertops, backsplashes, and bathroom vanities.
Granite can be polished, honed, or flamed. Polished granite has a glossy surface that brings out the brilliancy in the stone's colors. The texture is very smooth and is not very porous, so it is excellent for countertops where staining might occur. Honed granite has a flat or low-sheen finish that is smooth in texture. It is still fairly porous and natural looking, often used for floors in high-traffic areas like commercial buildings. Flamed granite has a rough finish that is achieved by exposing the stone to intense heat. When heated, the crystals in the stone actually pop. The surface is very porous. It is most often used in commercial applications.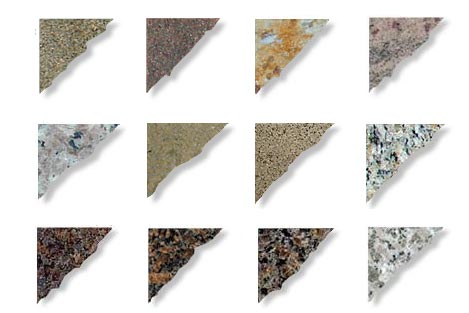 A few granite samples
Questions about Granite
Aren't granites expensive?
No. In fact, granite countertops can be less expensive than a solid surface material such as Corian©. The price will vary by square foot, depending on the color you select as well as the edging detail. But remember, your granite counter will last forever and be completely unique to your kitchen--a truly durable, scratch resistant and beautiful investment.
How do you take care of granite?
Clean with ordinary window cleaner as often as you like.
Can you scratch granite?
Granite is one of the hardest stones available. It cannot be scratched in ordinary use; even a knife blade will not scratch it. It can only be scratched with specially sharpened tools designed to work with granite, like tungsten and diamond tools.
Can you chip granite?
Granite will chip only in cases of severe abuse with a hammer or impact tool. In the unlikely event that your granite is chipped, the mark can be filled with a granite dust and epoxy mixture. Granite will not crack with ordinary use. It is most susceptible to cracking during shipping.
Does granite stain or burn?
No. You can't burn it with ordinary use. Granite is highly resistant to staining. The only caveat is that a few colors may absorb some moisture with prolonged contact. Usually no evidence remains when the liquid is removed and the granite dries. A problem could arise with prolonged exposure to a dark-pigmented liquid.
Although the granite may have a sealer applied at the fabricator's location, we recommend that a stone sealer also be applied after installation. Please consult with your fabricator for advice.
Can granite cantilever (project from a wall without other visible means of support)?
Yes. You can cantilever a single piece of granite of up to 14" if there is sufficient support on the fixed end. Never cantilever granite where it might receive excessive stress like someone sitting on a counter or stepping on a counter to change a light bulb. You must have additional support underneath for these situations.