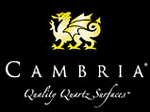 Cambria is a natural stone surface that is elegant and practical. There is no safer surface for food preparation. If you are building or remodeling your kitchen or bath, you will appreciate the beautiful collection of colors and the exceptional performance that Cambria offers.
Cambria is virtually non-absorbent, greatly reducing the potential for bacterial growth. Unlike granite, you never have to seal or polish Cambria and it comes with a 10-year warranty.
| | |
| --- | --- |
| Victoria™ | Park Gate™ |
Why choose Cambria? Here are the reasons why:
Natural Cambria
Natural Cambria is pure natural Quartz stone mined out of the earth. It has the look and feel of granite with superior performance.
Beauty
The classic beauty is reminiscent of granite, but is available in a color range that expands your design options and enhances the elegance of your home.
Care Free
There is no special maintenance required, ever. Just wipe it up with warm water. Unlike other countertops, there is no sealing, buffing, or reconditioning ever needed.
Durability
There is no stronger or more durable countertop available. Cambria is twice as strong as granite, and resists staining and abrasion like nothing else.
NSF Certified Cambria
Cambria is certified by the National Sanction Foundation International (NSF) for commercial kitchen Splash Zones, and Food Zones. This is the same certification level as stainless steel.
Safe
Because its virtually non-absorbant, there is no worry of food or bacteria like salmonella or e-coli penetrating the stone. That¹s why Cambria received NSF certification. Granite requires sealing and is not NSF certified.
Colors
Cambria's range of colors is beyond comparison. From the natural tones of the Quarry Collection to the vibrancy of our solid colors, Cambria has an option to match everyone's unique design style.
Everlasting Value
With its beauty and advantages over granite, there isn't a countertop that will add more to your home's value than Cambria.
10 Year Warranty
Properly installed Cambria includes a transferable 10-year product warranty.
Service and Quality
Cambria is fabricated and installed only by select companies across the United States. Cambria manufacturers work closely with every fabricator and installer to insure the highest service and quality of your finished Cambria surfacing.
USA
Cambria is the only Quartz Surfacing produced in the United States of America. All other quartz products are imported from foreign countries.
Please visit the Cambria Website for more information and pictures.